Accommodation at Lake Waikaremoana – Big Bush Holiday Park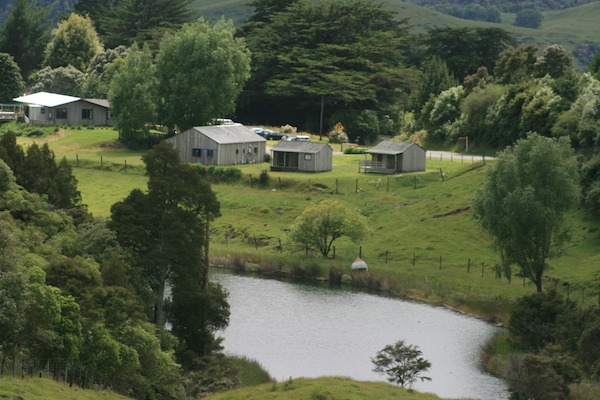 Looking for Accommodation at Lake Waikaremoana?
The Big Bush Holiday Park is situated in a beautiful quiet valley just 4km from the Onepoto end of the Lake Waikaremoana Great Walk.
As such Big Bush is the ideal place for all trampers to use as their base when walking around the Lake Waikaremoana Great Walk.
Conveniently, Big Bush can Shuttle you to Waikaremoana from Wairoa, and also arrange for our water taxi to pick you up or drop you off at any point around Lake Waikaremoana.

These services make any trampers trip to the Waikaremoana area as easy as possible. Run by one family, Big Bush offer a warm, hospitable atmosphere to all visitors who venture into this magnificent part of New Zealand. Whats more our range of quality accommodation options make your stay before or after doing the Great Walk as comfortable as possible.
We offer back packer styled accommodations, fisherman cabins and self contained family units that allow you to be housed in comfort and style.

We have over 17 years experience in providing custom accommodation, travel and dining experiences in the Waikaremoana area so you can rest assured your in good hands when you let us help you plan your stay at beautiful Lake Waikaremoana.

Accommodation Options at Lake Waikaremoana
A popular option with both regular fisherman and trampers about to do the Waikaremoana Great Walk are our self contained Chalets, they feature seperate bathroom, toilet with shower and vanity. Separate bedroom with queen size beds, kitchen with stove, fridge and jug, toaster, pots and pans and all the things you need to make a reasonable meal.  All this with a lovely verandah and view of our own private lake!
Backpacker Styled Accommodation at Lake Waikaremoana
If your only with us for one or two nights and don't mind sharing a kitchen, then probably a bed in the back packers area of our accommodation facility is all you'll need. This is a large modern facility featuring 4 separate rooms with 8 beds in total.  It's "backpackers" styled only in that you share some facilities, not the quality of the accommodation!  It's very spacious and comfortable and features a modern lounge and full featured kitchen and an awesome huge deck for sunning and relaxing in the afternoon. We always ensure that you are in a separate room or with your group and the comfort and pleasure of our guest is always what we strive to achieve.
Communal kitchen facility
Self Contained Family Holiday Accommodation at Waikaremoana
Our most comfortable family unit is called "Sorefoot" – set aside from the other units this self contained modern chalet features;
comfortable lounge with leather lounge suite
kitchen with fridge and oven
double bedroom with queen sized bed
separate shower & toilet facilities
single bedroom with one single bed
We are happy to arrange custom accommodation packages to cater for almost any requirements for staying at Lake Waikaremoana. Our helpful staff are always on hand to answer any questions you may have about getting to or around the lake.  Whats more, our fully licensed bar and restaurant allows you to enjoy a coffee or a great meal and water taxi service will get you to or from any drop off point on the Great Walk. If you need road transport from or to Lake Waikaremoana, our road shuttle service will get you from Wairoa to Waikaremoana.
To make a booking or to contact us regarding any accommodation




or travel related inquiry regarding Lake Waikaremoana call us


Toll Free on 0800-525-392, 06-837-3777 or email us by clicking here.