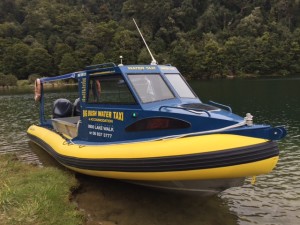 $60 Round Trip from the Big Bush or Lake Waikaremoana Holiday Park
When starting the Great Walk at Waikaremoana we can arrange to pick you up from either end of the walk and transfer you to Onepoto and then Big Bush Holiday Park or back to the Lake Waikaremoana Holiday Park.
If you take our recommended route starting at Onepoto (also known as the Panekire Hut end) you can arrive at Big Bush Holiday Park and be transported to the start of the track by road then collected by our water taxi on completion of the track at Whanganui Hut (or close to the designated pickup spot). There are several advantages in doing it this way;
You get to see the beauty of Waikaremoana from out on the water – a different perspective from on the track
You get to cut off the last piece of the walk up the Whanganui arm track which is actually along the road
You can use our pack transfer service to deliver gear at various points along the great walk to make for an easier tramp (great for families)
You don't have to travel the windy narrow gravel roads from the Hopuruahine landing back to Onepoto or Big Bush base camp
You can park your vehicle for free at Big Bush and know that your car and belongings are safe
One way trips
$50 per person – Whanganui to Lake Waikaremoana Holiday Park or Onepoto
$50 per person – Onepoto to Lake Waikaremoana Holiday Park or Lake Waikaremoana Holiday Park to Onepoto
Water Taxi Schedule
Depart From:
Departure Time:
Destination
Weather Dependant Travel Time
Lake Waikaremoana Holiday Park
9am
or 1pm
Onepoto
20 min
Onepoto
9:30am
or 1:30pm
Whanganui Hut
20 min
Whanganui Hut
10am
or 2pm
Onepoto
20 min
Onepoto
10:30am
or 2:30pm
Lake Waikaremoana Holiday Park
15 min
Prebook your Water Taxi on (06) 8373 777 or by completing the contact form available here:- Contact Us
Cancellations for accommodation or water taxi accepted up to two weeks prior to booking. If you do not show you will still be charged the full amount.
Certified Water Taxi Service for Lake Waikaremoana
For your comfort and safety we have passed both the stringent maritime safety vessel survey program and internationally recognised skippers certificate, this means both our vessel and operator are certified to operate a water taxi service to transport passengers.
We have all the modern safety equipment installed required to operate a water taxi service so you can be sure that you'll be transported in both comfort and safety. As a local, Zak our primary skipper holds a valid SRL licence (which is required by law), has lived in Waikaremoana for 20 years and driven on the lake for 10 years. All our boats are surveyed to carry passengers and regularly audited. Safety of the passengers is paramount, as you will see when you board our vessels.
We'll get you to where you want to be so you can enjoy the serenity and the beauty of this special place….
Other services that are popular are day cruises on the lake and drop off and collection at any points around the lake to enable you to easily customise your Lake Waikaremoana Great Walk experience.
To arrange a booking and to confirm pricing contact us here.